Physiotherapy Wellness and Fitness
At Dunlop Performance Fysiotherapie we are a physiotherapy, performance coaching and wellness company.
We strive to work together with our clients understanding their challenges and goals. We aim to drive performance, rehabilitate injuries and empower individuals to feel good again, returning back from injury and illness, back to full health and all the way to performing at the highest level.
We focus on a research based and holistic approach to give clients simple tools to take realistic daily action to build habits for lasting results that make a difference in how they feel and enjoy life.
Where we are
We are located in the new VRA cricket hall on the edge of the beautiful Amsterdamse Bos, in Amstelveen, just south of Amsterdam.
Easily accessible by car from the A10 (Amsterdam ring road) and A9, with free parking in the surrounding parking areas, which are a short walk away.
By public transport, Amsterdam Zuid and Amstelveen Stadshart are nearby where you can take bus to Kalfjeslaan, Amsterdam before a beautiful walk to our location.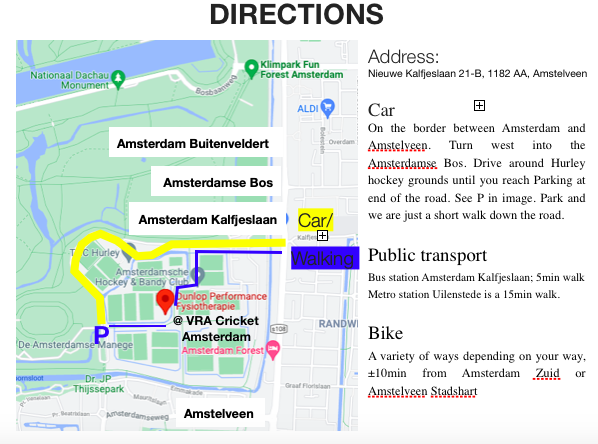 Opening Times
Monday-Friday: Contact for availability
Saturday: Contact for availability
Sunday: Contact for availability
VRA Cricket Amsterdam
Nieuwe Kalfjeslaan 21-B, 1182 AA Amstelveen